About Us...
Galway Bay Medical Centre has been providing healthcare in Galway City since June 2008.  
Initially established on Merchants Road in 2008, we moved to our current location on Dock Road in September 2012 and became a 3 GP Partnership in 2021 with Dr Kim Wilson and Dr Aoife Kiely becoming  GP Partners.  
We offer a wide range of medical services in a professional yet relaxed atmosphere and can treat both Private and Medical Card (GMS) patients. 
Who We Are
We believe in Evidence-Based Medicine, kindness, chocolate, common-sense, art, laughter, good music and equality. 
We believe you should be able to approach your GP about any medical worry you have and be treated with respect. 
We believe in making you feel at ease during times of physical or mental stress. 
We believe that knowledge is an important step on the road to health. 
We believe in preventive medicine. 
We believe in putting the patient first and treating our patients as equals. 
We are here to help you. 
Who Can We Treat?
We are happy to treat anybody who requires medical assistance, whether you are a private patient or hold a medical card or doctor visit card. From time-to-time we may not be accepting new patients for capacity reasons. Please enquire at reception. 
 Visitors from the EU who hold a valid European Health Insurance Card do not have to pay for emergency GP visits during their stay. 
If you have a medical card registered with another GP then the terms of use of your Medical Card require that you attend this doctor. However, if you are away from home or need emergency medical assistance we can treat you. 
All GMS/DVC or EHIC cards must be valid and presented on arrival. 
Visiting From Abroad?
The GP is your first point of contact within the Irish health service and where you should start if you have a medical problem while holidaying in Ireland. GPs can resolve 90% of issues and can refer you further if required.  
If the problem is extremely urgent (for example collapse, bad accidents, heart attack, bleeding profusely...) you should call an ambulance (phone 999 or 112) or go directly to the Accident and Emergency Department of the closest hospital.  
A valid EHIC (European Health Insurance Card) or UK NHS card entitles you to free emergency GP care.  
We also have direct payment arrangements with a small selection of insurance companies for those normally resident abroad.  
For others, keep your receipt after paying for your medical treatment to claim back later if your insurance allows for this. 
What Can We Treat?
If you have a medical problem of any kind and need advice or treatment, your GP is the place to go. The obvious exception to this is a serious medical emergency where hospital treatment is required. If it requires an urgent ambulance, call them without delay by dialling 112. 
For everything else start with a GP. 
General practice is by far the most efficient component of Ireland's health service, with rapid access to appointments and expertise. On average 90 - 95% of your medical problems can be dealt with directly by your GP without the need for onward referral.   
Please see our Services section for full details of our routine GP services, Family Planning options, Travel Vaccine clinic (including yellow fever), Cryotherapy, STI screening, Suturing, Antenatal care, Childhood Immunisations and Flu vaccines, Cholesterol/Diabetes screening, and many others. 
When Can We Treat?
Appointments are available from 8.30am to 5pm Monday to Friday. Out-of-hours GP cover for registered patients is provided 24/7 through our midweek and weekend GP rotas. 
If you are a patient of the practice or of one of our partner practices and require emergency assistance out of hours just phone the surgery and our answering service will direct you further. 
Day

 

Opening

 

Notes

 

Monday

 

0830 - 1700

 

Closed for lunch - 12:30 to 2pm

 

Tuesday

 

0830 - 1700




 

Closed for lunch - 12:30 to 2pm

 

Wednesday

 

0830 - 1700

 

Closed for lunch - 12:30 to 2pm

 

Thursday

 

0830 - 1700

 

Closed for lunch - 12:30 to 2pm

 

Friday

 

0830 - 1700

 

Closed for lunch - 12:30 to 2pm

 

Saturday

 

Closed

 

See

here

for Emergencies

 

Sunday

 

Closed

 

See

here

for Emergencies

 
Emergencies will be accommodated as a priority. 
We offer 15 minute appointments and aim to keep delays to a minimum. 
If you need a longer appointment (complex problems/multiple issues or mental health, for example) please mention this at time of booking.  
Consultations which run significantly over the allotted time may incur the additional charge of an extended consultation. 
 
Double appointments are needed for certain procedures (Mirena insertion, Implanon insertion and removal, well man and well woman checks, pre-employment medicals and some others). If in doubt, please enquire before booking.  
Some blood tests and swabs need to reach the hospital on the day of testing, so morning appointments are preferable.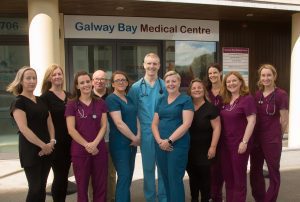 Where Are We?
The surgery is in a ground floor premises on the Galway Docks (beside the Gate Dental Clinic) - on the Eyre Square end of Dock Road. 
It is a 2–3-minute walk to the surgery from Shop Street & Eyre Square. All rooms are fully wheelchair accessible. 
You can find some helpful 'How to find Us' videos on our Youtube channel or have a look at our map below. 
Parking 
There is on-street paid parking on the doorstep, along with a surface car park on the Docks and covered parking in the Hynes Yard and Eyre Square Shopping Centre multi-storey car parks. It is a 2–3-minute walk to Shop Street & Eyre Square. We are fully wheelchair accessible. 
Staff Profiles: 
We opened in 2008 with one doctor and a receptionist and have grown to a 3 GP Partner practice with a full administration team and practice nurse support.  
As we have grown so have our team of allied healthcare professionals all adding up to a true one-stop-shop for most, if not all, of your healthcare needs. 
The doctors are fully Irish-qualified (MICGP) GPs with many years of experience of both healthcare and life who are constantly working hard to stay up-to-date with relevant advances on modern medicine. 
At present we have 5 GPs, 2 Practice Nurses and a 5 person Admin team all dedicated to ensuring that your healthcare needs are met in the most efficient and professional way possible. 
We will not compromise in our mission to deliver the best in family healthcare in a friendly and welcoming environment. 
Call Michelle, Fiona, Amy or Laura to book an appointment or if you have any queries about any aspect of our services. 
GP Training Practice
Galway Bay Medical Centre is a training practice for new GPs as well as for medical students. Every year in July, we welcome a different fully qualified and competent doctor, who is completing their specialist training in General Practice. With your help, we ensure they receive further high-quality additional training in our Specialty during their 12 months with us.
Dr Sinead Murphy is a GP Trainer/supervisor, and the whole GBMC team play their part in contributing to this role.
You can book in with our GP Registrar most days and may experience occasional joint consultations with our GP Registrar - therefore benefiting from two GP opinions rather than one.
Thank you for playing your part in ensuring the next generation of GPs will be able to care for your next generation in a meaningful way.
Clinical Team
Dr Sinead Murphy
Dr Sinead Murphy graduated with a Medical degree from NUI Galway in 1998. She undertook formal GP vocational training in the Midlands for a further 3 years and has extra qualifications in the areas of Womens' Health, Sexual health, Dermatology and more.
General Practice is in my blood since I was born, having grown up with my dad's GP practice in the family home. I learned what it meant to be a GP from him, although I have had to reinvent this in the last few years with many new challenges in the Irish healthcare environment.
We have risen to the challenge of providing more and more specialist services, due to recent difficulties in accessing these services in the hospital sector.
I particularly enjoy some of our subspecialty clinics, especially in the areas of fertility, menopause, mental health assessments, contraception, STIs, psychosexual consults, travel medicine, dermatology - including being a prescriber of Roaccutane for acne, minor surgery and cryotherapy. 
I have probably learned more from my patient's collective experiences and feedback over the years, and my own journey being a mother of one son, than all of the formal training and upskilling which we undertake on a constant basis. 
Free time is increasingly spent trying to optimise the work-life balance, including finding time for music, drumming, shore walks, rowing, kayaking, reading, creative bits, parenting and enjoying wide open spaces.
Her qualifications include: 
MB BCh BAO (NUI Galway)

 

MICGP (Member of the Irish College of General Practitioners)

 

DCH (Diploma in Child Health)

 

DoWH (Diploma in Womens Health)

 

DME (Diploma in Medicine of the Elderly)

 

Certificate of Family Planning including insertion of Mirena and Implanon

 

STiF (Sexually transmitted infections foundation course)

 

Diploma in Dermatology

 

Advanced Certificate in LARC (Long-Acting Reversible Contraceptives)

 

ICGP Menopause Course

 

GP Trainer with the Western GP Training Scheme
Member of the Irish Medical Organisation
Member of the Travel Medicine Society of Ireland
Member of the Primary Care Dermatology Society of Ireland
Member of the Primary Care Surgical Association
Dr Kim Wilson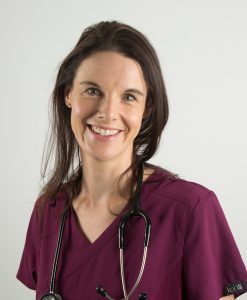 Dr Wilson is originally from Trim, Co. Meath. She graduated from NUI Galway in 2005. She worked for a period of time in Ireland and abroad before undertaking a further 3 years of formal GP training. She joined Dr Sinead Murphy and her team in Galway Bay Medical Centre in 2012 and became a partner in 2021.
'One of my passions in life is travelling. I was lucky enough to be able to work as a doctor in Australia and New Zealand before coming home to begin working as a GP. I have volunteered as a doctor in Tanzania, Vietnam, and as a floating doctor in Panama. Each of these experiences have helped me to grow as a person and as a doctor and has given me a wide range of experience. I love to dive and have completed my PADI beginner course (in Zanzibar), my advanced diving course (in Thailand) and my rescue diver course (in Honduras). I have done numerous fun dives but embarrassingly, have not yet tried diving in Ireland. My work is a large part of my life. I have a lot of experience as a general practitioner but also have a special interest in women's health and contraception, sexual health for men and women, menopause, minor surgery, travel medicine, child health and dive medicine. I have additional diplomas in psychiatry, paediatric medicine, women's health and occupational health medicine. 

I have 2 small children at home so I have personal and professional experience in the challenges of pregnancy and childhood. 

I feel that my life and work experience has moulded me into the doctor that I now am and enables me to help patients from all walks of life.'
Dr Wilson's qualifications include:
MB BCh BAO (NUI Galway)
MICGP
LFOM Occupational Medicine
DCH (Diploma in Child Health)
DoWH (Diploma in Women's Health)
Diploma in Psychiatry
ICGP Minor Surgery Course
Family Planning Certificate - certificate in Contraception and LARC (long-acting reversible Contraception)
Registered cervical smeartaker
STiF (Sexually Transmitted Infections foundation course)
ICGP Menopause Course
Dr Aoife Kiely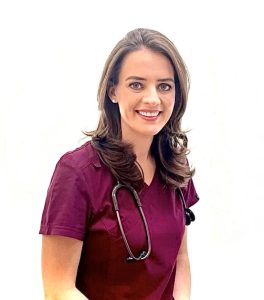 Dr Aoife Kiely grew up in Salthill in Galway. She graduated with honours from NUIG and completed her specialist GP training in 2018. She joined the team in Galway Bay Medical Centre the following year and became a Partner in 2021.
I have always wanted to be a GP and studied medicine purely to achieve this end goal. I feel very privileged to work as a family doctor and I particularly enjoy women's health, paediatric medicine and mental health. I keep up to date with regular attendance at formal training courses and workshops particularly in the areas of gynaecology, contraception, and menopause care.
It is very rewarding watching the practice grow with the addition of new individuals and families as well as welcoming all our new babies every year!
I am fortunate to be able to pursue my special interest in Occupational Medicine while working as a GP. I completed a two-year training programme with the Irish College of General Practitioners and was awarded the licentiate degree in Occupational Medicine (LFOM) by the Royal College of Physicians of Ireland in 2020. I subsequently worked for a period in one of Ireland's leading occupational health companies to gain further experience in this field before returning to work exclusively in Galway Bay Medical Centre. I work closely with several local companies across a range of industries and regularly see employees for pre-employment medicals and fitness for work assessments.
Most of my free time is spent enjoying the outdoors and the seaside in Galway and Connemara with my husband and two young sons who are putting in regular requests to add a dog to the mix!
Dr Kiely's qualifications include:
MB BCh BAO Honours NUI Galway
MICGP
LFOM Occupational Medicine
DRCOG (Diploma in Obstetrics & Gynaecology)
DCH (Diploma in Paediatric Medicine)
DCP (Diploma in clinical Psychiatry)
Certificate in Contraception
LARC (Advanced Certificate in Long-Acting Contraception)
STIF (Sexually Transmitted Infections course BASHH)
Registered Cervical Smeartaker
ICGP Menopause Course
Nurse Rachel Concannon
Our senior practice nurse, Rachel Concannon, is a highly experienced practice nurse who has worked in General Practice since 2004.
Originally from Sligo, graduated in London in 1999, she moved back to Galway in 2014.
She has a wealth of extra qualifications, which include:
Registered Cervical Smear taker
Diploma in Fertility & Fertility Control
Diploma in Respiratory Disease Management
Certificate in Travel Medicine
Diploma in Diabetes Management
Diploma in Cardiovascular Risk Management
STIF (Sexually Transmitted Infections Foundation Course BASHH)
Nurse Nina Barden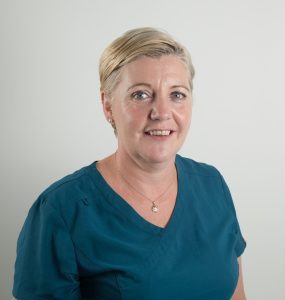 Nina is originally from Longford, she started her nursing career over 30 years ago. She graduated as a general nurse in 1994 from James Connolly Memorial Hospital in Dublin. From there she went to England and gained experience working in London in both the spinal injuries unit in Stanmore hospital in London and in Whipps Cross hospital as an agency nurse. Returned to Dublin and gained experience working in both the public and private sector. She then moved to Kilkenny and started working in St Luke's hospital where she completed her Graduate Diploma in Accident and Emergency Nursing. She became a CNM -1 Shift Leader in A@E for a number of years before returning to Longford. She has over 17 years of experience working with a GP there  before moving to Galway recently. 
"All my life I have been in the medical profession, even before my training I worked with the elderly in a nursing home in Longford. I have over 31years experience as a nurse both in the acute and non acute settings and nursed all ages from infants to the elderly and all stages  of life in between. I have gained many years of in-depth experience dealing with and caring for patients and family members. I have dedicated my life to looking after people and I would not change it for the world.

If I am not working, I am exercising. I love running and have participated in many 5k / 10k runs and half marathons for various charities. My most challenging was the great north run in Newcastle and also the Hell and Back 8k challenge. I have completed many courses needed to keep myself up to date and competent in all areas of my work."
Her qualifications include:
Certificate in Practical @ Theoretical Nursing.

Graduate Diploma in Accident @ Emergency Nursing.

Advanced Cardiac Life Support course.

Advanced Trauma Life Support course.

Registered Cervical Smear taker.

Recently completed my CPR update.

Recently completed my Childhood immunisation update.
Admin team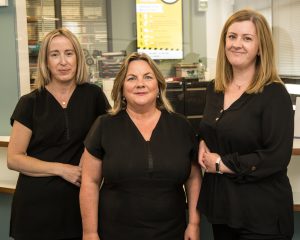 Michelle Kenny 
Michelle is a Galway native.  She started working with Dr. Sinead Murphy when the practice first opened in 2008 and has been with Galway Bay Medical since.  She started as office administration and is now the front of house office manager.
"I love working in Galway Bay Medical Centre. I actually started my job a couple of weeks before my wedding!  Since my very first meeting with Dr. Murphy I knew that this would be my "forever career".  I had no previous medical experience coming from an office supplies/customer service background but I quickly adapted to my new career and love looking after all of the patients of the practice."
Fiona Quinn 
Fiona has been working in the medical sector in various forms for over 20 years and has been part of the Galway Bay Medical Centre team since 2016.
"Every day working at GBMC is a learning experience for me and no two days are ever the same. I hope to be part of the team for many years to come."
Amy O'Reilly
Amy has been an invaluable member of our administrative team since she joined the practice in 2021. She brings with her a wealth of experience from various customer service roles in the retail sector prior to joining the team at Galway Bay Medical Centre.